Co-Ownership Financing
Need a Down Payment?  We've got you covered… Ourboro Co-ownership purchase financing is a new way to buy and own your home. By contributing 5%-15% of the home's value to help you reach a 20% down payment, we're purchasing a share in the future value of your home. We're not a lender. Instead, we co-own […]
Need a Down Payment?  We've got you covered…
Ourboro Co-ownership purchase financing is a new way to buy and own your home.
By contributing 5%-15% of the home's value to help you reach a 20% down payment, we're purchasing a share in the future value of your home.
We're not a lender. Instead, we co-own alongside you. Once you are living in your home, we offer programs and services to help preserve and increase its value so that together we can share in the profit when it is sold.
Step 1
Pre-approval
Start by submitting your application. If it seems like a good fit, we'll invite you to a call to learn more about your homebuying goals and answer your co-ownership questions.
Once you receive your mortgage pre-approval from one of our approved lenders, you'll be able to lock in Ourboro's maximum down payment contribution. Ourboro's contribution can be between 5% to 15% of the purchase price, up to a maximum of $250,000.
Step 2
Find your new home
We'll pair you with one of our partner real estate agents who is specially trained to guide you through the homebuying journey with us.
You will have access to Ourboro's custom-built property search tool to help analyze and filter listings, showing you homes that we believe will meet your needs and grow in value over time.
Step 3
Determine our ownership share
When we co-buy a home, the percentage of the down payment that we each contribute translates into the percentage of equity we have in the home. This determines how the home's appreciation is shared when it is sold.

So, if we each contribute half of the down payment, we would share the home's available equity 50/50. If you contribute 25% of the down payment and Ourboro contributes 75%, you would have a 25% stake in the home's equity.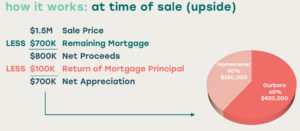 The money that we invest into your home is not a loan to you, we are buying a share in the future value of the home. That is why there is no interest or monthly payments.
Let's connect to see if Purchasing using Co-ownership financing is the right for you!
Let's connect by phone or zoom at a time that works for both of us.  Click the appointment link https://calendly.com/lorneandrews/meeting